Blogger Apps: Editing and Planning Tools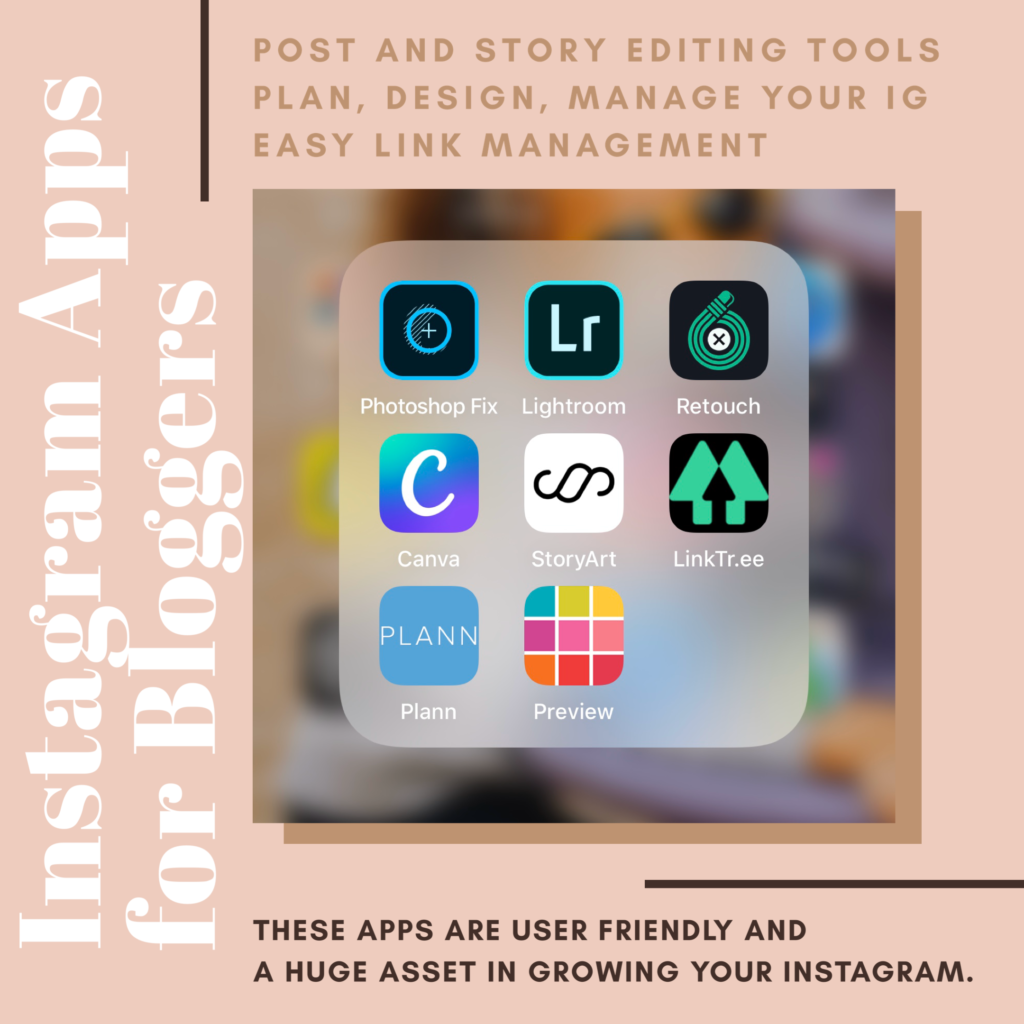 Thanks for following along on my Influencer Marketing Series! This is Part 3. These are apps I use on the daily basis for my Instagram that help keep me organized. They also assist in keeping up my Instagram aesthetic.

Click PART 1 for Influencer Marketing: Your Questions Answered.
Click PART 2 for Starting A Blog: What You Should Know First.
Photoshop Fix
I use this app to clean up any images. This has a healing tool that can also remove unwanted things in your background. I also love this to control lighting in my face or body, and/or in the overall image. It is very user friendly.

Lightroom
This app is my go-to app. I usually use this app first. I have a Lightroom account that I pay for monthly that gives me access to all the features. If you wish not to purchase, that is ok. You will still have access to some features which will allow you to edit your images just fine.
Lightroom is very user friendly, and is also the number one place to use presets. You know those fancy colored/grainy/moody Instagram presets everyone is using on their images? Lightroom is where they are adding them to their images. You can purchase presets on Etsy for around $5-$10. They're quite simple to add to your Lightroom account, and once added its just a click of a button to add to your image.
I do most of the editing on my images here in Lightroom. If there's any app you need its this one!

Retouch
I LOVE this app for unwanted background objects, such as buildings, plants, people, cars, etc. It worked with the click of a button. So simple and easy to use! It will also help remove any objects in front of you or on you. Its just a great tool! Also a must have!

Canva
Canva has been around for YEARS. I remember using Canva when I first started blogging (along with PicMonkey). I just love how much the brand has evolved over the years. Canva allows you to completely create your own images using their pre-made blank templates for almost every social media platform. For example, if you wanted to create an instagram image they have a blank template already the size of instagrams posting requirements, so all you'd need to do is add your content and save WITHOUT A WATERMARK! How incredible is that?
What also sets them apart from other brands is the ability to use their pre-made templates for all social media platforms. These templates have all sorts of colors and fonts you can use. You just tap the image, edit the content to your liking, and WA-LA (sans watermark!). It's a pretty impressive app, with loads of templates ready to use! I use this app primarily for my blog and instagram stories. It is a must have!

Story Art
I love this app for Instagram Stories! Similar to Canva with pre-made templates, it allows you to be creative in designing your content, but with a little bit of help. You also have the opportunity to purchase upgraded templates if you wish.

LinkTr.ee
I used LinkTr.ee for about 2 years. They're a free (upgraded version available) app that allows you to use one link in your bio that opens up several links for your followers to click on. Since Instagram only allows for you to add one link to your bio, this LinkTr.ee link is a great tool to allow multiple links to be used.

PLANN
The Plann app is a great tool to use to strategically "plann" your instagram posts. It allows for you to plan your instagram posts ahead of time with images, captions, and even editing tools. You can also check your instagram performance with their enhanced productivity tools. The app is free, but there is an upgraded version.
Preview
I have been using this app for years now. My good friend Giselle over @WeekendFamGoals introduced me to. It is what I use daily to view my instagram images on my feed prior to posting. It's an excellent app that also allows you to add captions and hashtags to your posts. I absolutely love it! For any new or seasons bloggers, THIS IS A MUST!
I hope this has helped you decide what apps are worth using for your social media! If you have any questions on how to use any of the apps please feel free to contact me! I'd be more than happy to help!