Polarized Minishades™ review ft. my Unsinkable Polarized shades!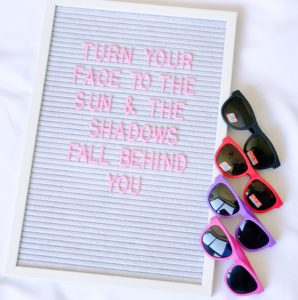 I recently posted about Coco's pool essentials and featured her Polarized Minishades™. I received tons of questions about them and even moms who wondered how Coco keeps them on! I wanted to give a more in depth review of them so you can better understand our obsession.
Coco is really obsessed. I feel like she watches me put my shades on and automatically needs to have hers on as well. We're lucky enough to now have one in every color so we've started to color coordinate. As a Mom you tend to worry about spending so much money on such accessories because our kids break and lose everything. These minishades are only $20! I have also been fortunate enough not to lose any thus far, although should I lose a pair they are backed by the companies Hide n' Seek Loss & Damage Warranty! And well breaking them isn't even a concern. ::insert hair flip::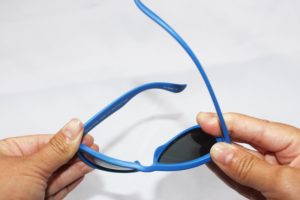 The company advertises they are virtually indestructible and impact resistant. Coco is 2. You can only imagine how many things she's crushed, thrown, stepped on, or even spilled food on. These sunglasses are insanely durable. I took a picture to show you myself. I literally bent them as much as I could. They didn't break and went right back to its original shape. You get all the benefits of 100% UV Protection, Lead, BPA, PVC, and Phthalate Free. Should Coco ever need prescription glasses, they are even prescription compatible! What!?!
Coco wears hers everywhere! The couch while watching tv, her high chair, the pool, and of course while cruising the pier on her scooter! This is her "cheeseeeee" face. HAHA!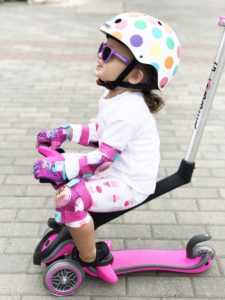 This purple color is called Grape Jelly and can be found HERE!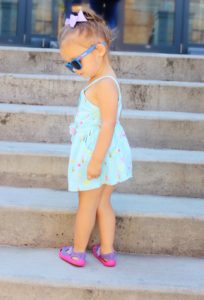 This color is called Electric Blue and can be found HERE!
I share a similar love for sunglasses and when I was given the opportunity to get a pair of my own… I jumped on it!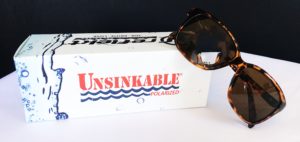 The creators of Polarized Minishades™ also make Unsinkable Polarized shades. I think its pretty awesome they make shades the whole family can enjoy! I absolutely LOVE them. I have the Karma Unsinkable Reflekt in Honey Tort with the lens color of ColorBlast Brown. You can check them out HERE. There are 4 color options in this style although they have 10 different styles. I own a bunch of black sunglasses so I opted for the tortoise shell color and this style because it's super chic!
I had to test out the "unsinkable" advertisement… I mean do they really float? YUP!
I had to show you how chic and cute they are! The Honey Tort color is so perfect for Summer & matches pretty much everything!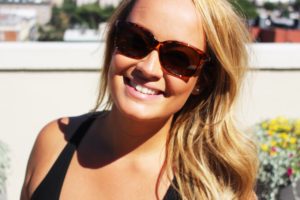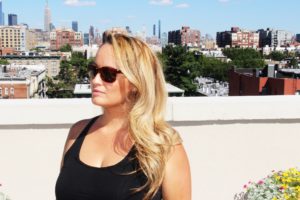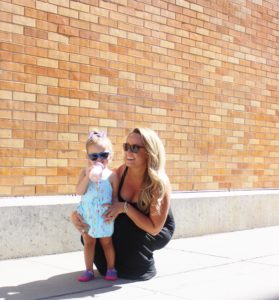 Lets just say we have found our go-to sunglasses and we're going to need you to hop on the bandwagon, too! Do you know how many sunglasses I've lost in rivers, lakes, and the ocean?!! Never again!
You can order online at www.polarizedminishades.com and www.unsinkablepolarized.com or check their website for local retailers near you!