Name Puzzle… best toy ever!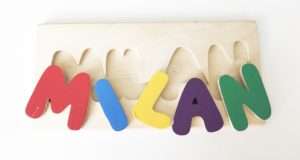 My girlfriend came over for a play date and asked me what Coco's favorite toy is. As I shared with her Coco's obsession with this name puzzle, I thought I'd share with you all as well!
I purchased this puzzle, the first time around, when Milan was 6 months old. I enjoy purchasing gifts, whether for myself or someone else, that will get good use. As I was thinking what to get a 6 month old who literally had everything, I instantly thought about the future. What's a memorable thoughtful gift she will get good use out of and perhaps be educational now and when she's a bit older?! I went on Etsy – because if you know me you know it needs to be personalized and "limited edition" ::insert eye roll here:: – and found John! John is the owner of Caney Springs Crafts. He had such excellent reviews and exactly what I was looking for – a name puzzle! Little did I know it would be her most favorite puzzle or toy ever.
Flash forward to a year and a half later… Coco can not stop playing with this puzzle! It's a morning routine we have where I teach her numbers and letters and she never hesitates to bring me her name puzzle so we can spell out her name! She loves telling me the colors and reading the letters to me. She knows its her name and gets so excited to show me she completed it. She has played with this puzzle so much she lost the letter N so I purchased another! John didn't fall short on his exceptional craftsmanship and quick shipping!
Name Puzzle Specs:
1 to 5 letter name puzzles measure 5 inches by 10-11 inches and is approximately 3/8 inch thick. Priced at $13. Link here.
6 or 7 letter name puzzles measure 5 inches to 12-14 inches and is approximately 3/8 inch thick. Priced at $15. Link here.
8 or 9 letter name puzzles measure 5 inches to 15-16 inches and is approximately 3/8 inch thick. Priced at $17. Link

here

.
Each puzzle is made with Baltic Birch Plywood
Each letter is painted with non toxic paint.
Each puzzle is offered in primary and pastel colors.
I just thought I'd share with ya'll and give you a good gift idea for a special friend or family member! Check our John's Etsy shop at Caney Springs Crafts. John even makes number puzzles!!! Check out the awesome number puzzle here!
And whats a blog post without pictures of my precious Coco playing with her puzzle! Yes, she spells her name upside down… we're working on that…