Healthy Egg Muffin Recipe to-go!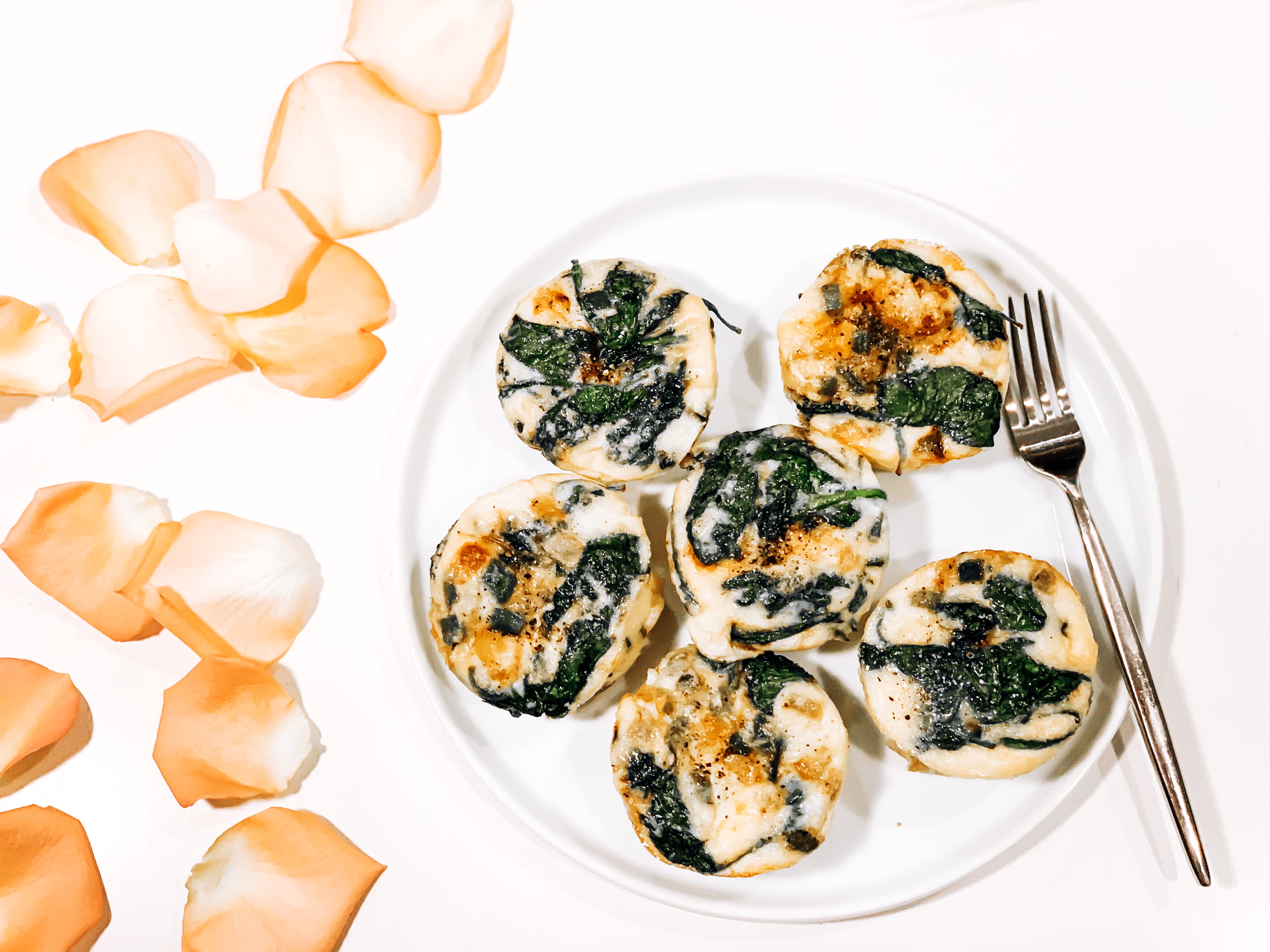 As many of you know I went vegan last year due to some severe stomach issues I had been experiencing for almost a year. It became apparent I needed to change my diet a bit to find out if what I was eating was causing the problem. Thankfully after becoming vegan for a few months most of the stomach pain I experienced subsided. Although, I am still not out of the weeds yet, I have been able to find a balance in what I put in my body and I I feel much better. I am no longer vegan, although there are some foods I still do not eat and will continue to keep them out of my meals.
Last month I decided to hire a personal trainer to assist me in continuing this lifestyle change. I have always had trouble staying on track. She (my trainer) has really helped me see the value in the foods I put in my body. I am learning what my body needs to keep hydrated, energized, and focused. I have also learned pretty awesome workouts tailored to my body so I can lose fat and gain muscle for my body type. It's been a great journey thus far!
Of course none of this would be possible without the right direction. As I have learned meal prepping is absolutely key! It was a rough start coming up with a strategy of meals to prepare to ensure I don't eat the same meals every day, but I have come a long way! If you are new to this as well… it may be confusing/difficult at first, but KEEP GOING!
When I went vegan I had such trouble with breakfast options (being vegan and a picky eater was a recipe for disaster LOL) so I just cut it out all together. I used to LOVE making breakfast before becoming vegan, so it was surprising to me once I stopped being vegan that I just continued to skip it.
The past 3 weeks I have been getting over it and have finally found something that works for me! Which is where these super delicious, quick and easy breakfast egg muffins have come into play!
These healthy egg muffins have been such a life saver for me and my busy lifestyle. I am constantly on the go or running after my toddler. So it is imperative I make a balanced breakfast for when I am on the go! I wanted to share my little recipe with you! Whether you find yourself super busy, or just looking for something quick and easy to throw in the microwave these little guys are definitely a treat!
Ingredients and Kitchenware(makes 6 egg muffins):
6 Cage Free Eggs
4 Cups of Baby Spinach
1/4 Cup of diced peppers and/or onions mixed (I use yellow, red, orange, and green peppers)
Pinch of garlic powder
Pinch of Salt
Pinch of pepper
Pinch of milk
1/4 Cup of shredded cheese (optional – my egg muffins do not have cheese in them, but I know some of y'all love cheese!)
1 Teaspoon of Olive Oil (or butter)
Cooking Spray
Cupcake Pan
Directions:
Preheat the oven to 350° and grease 6 cups on your cupcake pan with cooking spray.
In a large bowl whisk the eggs, milk, salt, and pepper. The amount of milk I use is very minimal. I just tip the milk carton in and out very quickly. The milk is my husbands little trick to fluffy eggs. He makes THE BEST eggs ever!
In a non-stick pan add 1/2 teaspoon of olive oil or butter and the peppers and onions to sauté. I usually just let them sauté until the onions are cooked (they look translucent). I then place them in a bowl to the side.
In the same non-stick pan add the other 1/2 teaspoon of olive oil (or butter), the cups of baby spinach, and a pinch of garlic to sauté. Sauté until wilted and set aside.
Begin to add the egg mixture to the cupcake pan and fill 3/4 of the way. Then add the spinach, and peppers/onions. They may sit on top a bit, so I push them down with a spoon so its evenly distributed.
Put them in the oven to cook for 18-22 minutes. To ensure they are fully cooked stick a butter knife through the center, if the butter knife comes out clean they are cooked.
Note: If you choose to add shredded cheese, add it the last 3 minutes of the cooking process.
Wait 5 minutes before removing from the cupcake pan. You can remove them right away (I do) just make sure you are cautious and do not get burned! The pan will be SUPER HOT! I also usually grab a spoon and run it around the inside walls of the cup for easier removal.
I place them on a cookie sheet to cool down before I store them in a food container. I only make enough for three days, so I store them in the refrigerator instead of the freezer. I reheat them in the microwave for 1 minute and they come out perfect!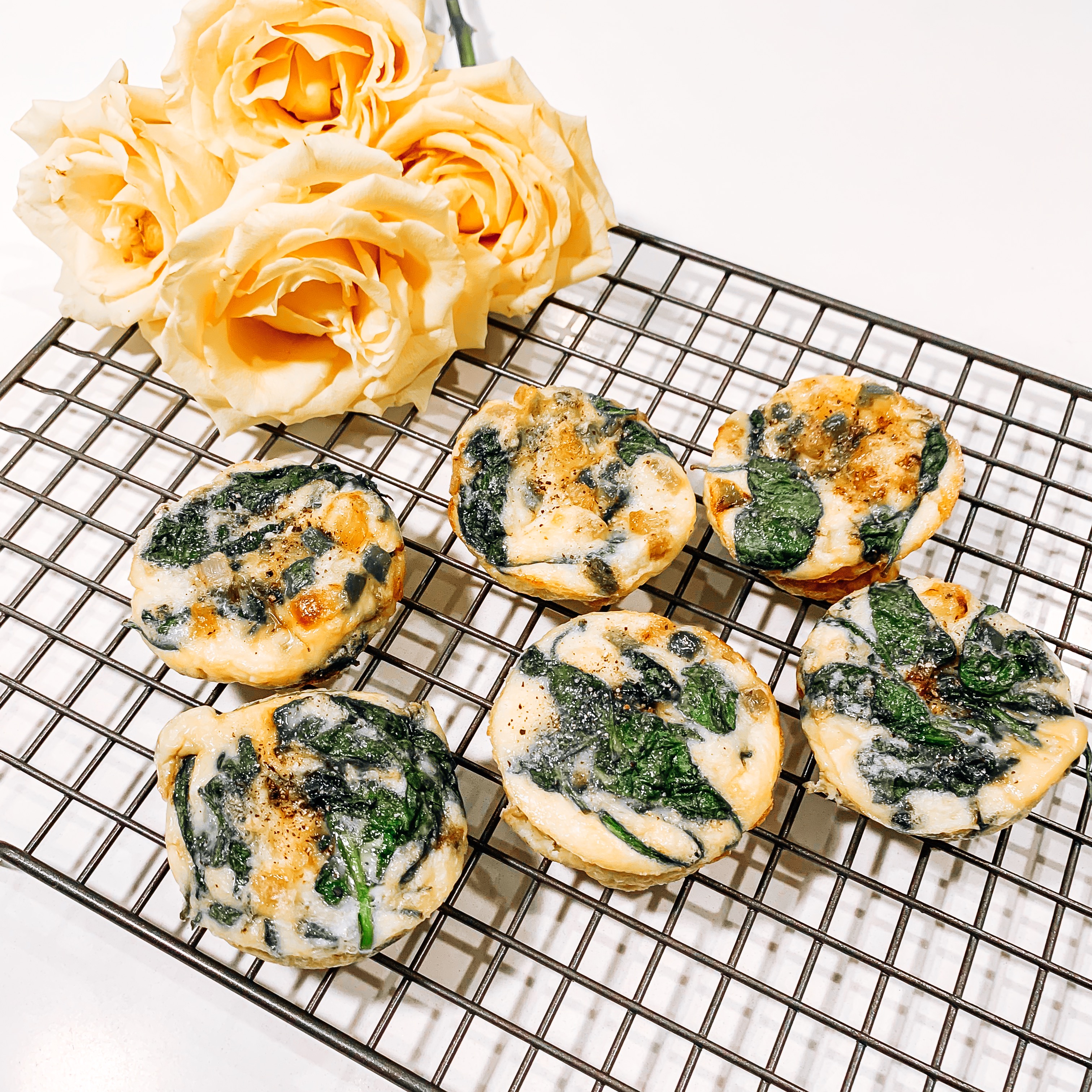 Note: You can freeze them if you make a larger batch! Just make sure the container is air tight.
Let me know if you choose to make them! Tag me @thatgirllaney on Instagram!