Top Toddler Pool Essentials!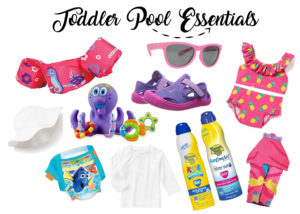 As a first time Mom you can't help but bring "the extras". Extra diapers, extra bottles, extra wipes, extra clothes, extra shoes, extra food, extra… the kitchen sink. I was that girl… ha
and while I am still that girl (pun intended), I am just a bit more practical. My d
aughter is 2, not 24 months, 2. I'll never understand Moms who still count their toddlers age in m
onths. I like to think I am good at math, but for my daughters first two years of life I am pretty sure I never told her right age. Whatever… she's 2 now and I no longer need to bring half of my house and my kitchen sink with me… hooray!! (As she would say.)
Summer is now here and I wanted to share what our pool essentials are and perhaps help out some Mama's who struggle with bringing way more than they need! Food not included. ;D
Stearns Seahorse Puddle Jumper Ultra Life Vest $20

This life vest says 30-50lbs and although Coco is only 25lbs, it fits her like a glove. There is an adjustable strap on the back to grow with her. Coco didn't complain of anything being too tight or uncomfortable. We received 2 as a gift for her birthday and we're very thankful! We anticipate having them for years to come!

Mini Shades Polarized Sunglasses $20

These cute shades don't go unnoticed! We get compliments everywhere! Pricey for toddler sunglasses he/she may lose, but adorable nonetheless! Coco actually keeps them on and although she has twisted and tried to pull them apart multiple times they haven't broken! The company website states they are: virtually indestructible, rx compatible, impact resistant, lead, BPA, PVC, Phthalate FREE.

Huggies Little Swimmers $10

These swim diapers are the real deal. This is my second year using them and they'll probably always be my go-to! Coco is 25lbs and wears a size 5 in Huggies Little Movers diapers so in these she is a size Medium (24-34lbs). I absolutely love them because they go on like diapers, not pull-ups, so I have control over the tightness/looseness on her belly.

Nuby Octopus Hoopla $7

This is a new purchase that we haven't used yet, but I know it will be a winner! It's an adorable bath toy that floats and allows our littles to throw little rings around the tentacles. I know this will be a hit at the pool! I can't wait for Coco to use it!

Canvas Sun Hat $13

This adorable hat is versatile for the pool, a day out in the sun, or the beach. I love it in white because it matches with everything! Washable, too!

Nike Sun Ray Protect Adjustable Sandals $28 on Sale Now!

These sandals are a MUST HAVE! Coco LOVES them! They are water resistant, adjustable, soft, comfortable, and with a rubber sole. A plus for me as a Mom is the coverage over the toe area, but breathable since it's not completely enclosed. Coco runs all over the place is these and has never experienced a rash or blister! They come in different colors as well!

OP Long Sleeve Swimwear Rash Guard Top $7

This is a repurchase, second year in a row! Purchased in store at Walmart. I have linked it, but it is out of stock. Definitely check your local Walmart. It's inexpensive and totally worth it! Coco used one all last Summer long! It helps protect against the rough sand and the hot Summer sun!

Banana Boat Sun Comfort Sun Screen SPF 50 $8

I use 50 SPF and 100 SPF on Coco. I purchased this 50 SPF because of the "sand easily brushes off" advertisement. I haven't used it in the sand yet, but even if it doesn't work I still have the 50 SPF option! We LOVE the spray bottle! So much easier than rubbing cream all over!

Banana Boat Kids Ultra Mist Sunscreen Spray SPF 100 $9

This little guy is water resistant up to 80 minutes and works so well! As I mentioned we love the spray!! Absolute must have!!

Pineapple Bathing Suit $16

You can find this teeny pineapple bikini at Old Navy! This is one of Coco's actual bikini's and I swear she looks so stinkin' cute in it!

Mermaid Hooded Towel $26

These towels are just too adorable! I couldn't find the one Coco uses online because I found it in the Dollar Spot area at Target for $5! It's of an ice cream cone with a hood and it says "I Scream for Ice Cream". Go check out your local Target, perhaps they are still available!
This hooded towel is darling though! The price is a bit much, but will do the job when you have a shivering toddler!
Check back for what's in Coco's Beach Bag as there will be some Mom Hacks you won't want to miss!!