Island Vacation Essentials ft. My Trip to Puerto Rico!
I recently took a trip to San Juan, Puerto Rico and when I say recently, I just got back 2 days ago. I haven't been on a trip in nearly 4 years, and to an island, well… never as an adult. I had no idea what to bring, what to dig out from last years Summer clothes, or where to shop right now because although I live near NYC it's fricken 30 degrees here! I scoured blogs for some ideas and threw some things together.
I wanted to share some of my island essentials as I found them to be my go-to and maybe you will too!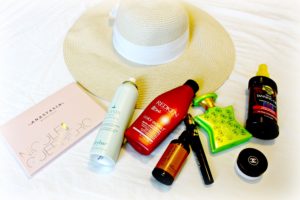 Beach Hat (because you want to look faaaabulous on the beach, duh!)
Anastasia Beverly Hills & Nicole Guerriero Glow Kit
Detox Dry Shampoo
Redken Color Extend Conditioner (if you have processed hair, this is a lifesaver!)
Josie Maran Argan Oil
Tarte Lash Paint Mascara (if you want lashes as dark as your soul)
Bond No. 9 Hudson Yards Perfume
Chanel Hydra Nourishing Lip Care
Banana Boat Tanning Oil Infused with Carrot and Banana Extracts
Anastasia Beverly Hills & Nicole Guerriero Glow Kit is new to my collection and I didn't think twice about bringing it. A tan & a glow on an island, yes please! I intend to review it, so stay tuned.
Detox Dry Shampoo is uhhhmaazzinnggg! I'm not one of those girls that can go a week without washing her hair because my hair will literally look like I rubbed Crisco in it. BUT! I can go at least 3 days with this dry shampoo and thats enough for me to travel to the end of the world with it. I channeled my inner Farrah Fawcett for a few extra days thanks to that bottle!
Redken hair care line is dear to my heart for a lot more reasons than I care to share. Okay, I'll share because it's somewhat funny and should teach you a lesson on hair processing. I had a friend who was a Paul Mitchell hair model and who also thought she was a cosmetologist (insert eye roll here). She threw 40% peroxide in my naturally dark hair with bleach and my hair fell out, almost all of it. It took me 3 years to grow it back and Redken helped keep it healthy. I should buy stock in their company, because I literally won't use any other shampoo or conditioner (besides my Clairol purple shampoo because that keeps my blonde highlights looking gorge).
Josie Maran Argan Oil is also dear to my heart. I have incredibly dry skin and it is the only "moisturizer" I can use. So thats why it's my essential. There was no other option. Ha!
Tarte Lash Paint Mascara is a total hidden gem. I purchased it a few months ago and completely forgot about it. I was cleaning out a Victoria's Secret bag (full of crap I also forgot about) and it was in there! Perfect timing because I needed to purchase a new mascara so I tried it out. I swiped my short stubby eyelashes with it and to my surprise it was as dark as my soul, just the way I like it!
Bond. No. 9 Hudson Yards Perfume is one of the best smelling perfumes next to my Viktor and Rolf Flowerbomb. I can't really tell you what "notes" are in it, or any of that fancy crap, but I can tell you that you'll smell more like Khloe Kardashian than a French Hooker. KK is pretty so I assume she smells pretty, too, right?
Chanel Lip Care is boss. Just buy it already. It's not a waste of $50, pinky promise with sprinkles on top. I use it every single day and have been since last Summer. It's a light balm with a tad bit of gloss, no flavor (which is a super plus for me), and really does moisturize my lips. I own the actual stick lip balm as well. Which reminds me I am almost out of it. That one is $35 and just as good!
Banana Boat Tanning Oil smells godly and will definitely help get you tan! Or in my case, Tomato Sexy. I didn't put sunscreen on, even though I brought it with me. So thats what I get for not protecting my skin.
I also brought Aloe Vera, which saved my life after my second day on the island and the remainder of my trip! Other things I packed were workout clothes and sneakers as I worked out some of the wine I drank on the plane that got me through the flight. I don't enjoy flying at all, so I have to subject myself to 5 glasses of wine, ear plugs, and movies I could care less about. I also brought dresses, shorts, tank tops, a bathing suit for every day I was there, espadrilles, comfortable nike flip flops, and a camera. I own the Sony A5100 and the Canon T5i. I brought them both, but only used the Sony A5100, so 2 cameras are totally not needed.
I put together this ensemble to give you an idea…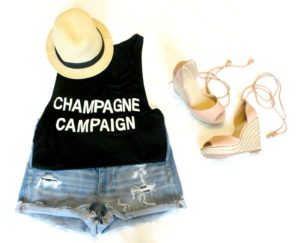 Fedora: Forever 21
Shorts: American Eagle
Shoes: Splendid Dara Espadrilles, shopbop.com
Shirt: Dear Hannah, stores are in Hoboken, NJ & Dallas, TX
The island was beautiful, I got badly sunburned (really I called myself Tomato Sexy for 4 days of my trip), enjoyed some amazing authentic food, drank a bottle of wine nearly every night, and enjoyed beautiful adventures with one truly amazing man.
Here are some pictures of our day trip to Old San Juan! Enjoy!